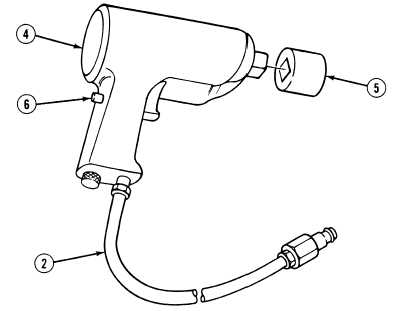 TM 9-2320-364-10
3-81
(2)
Connect air wrench (4) to other end of air hose (2).
Use only impact sockets and impact extensions with air
wrench.  Failure to comply could result in injury to personnel
and damage to equipment.  Safety goggles must be worn
when operating air wrench.
NOTE
Vehicle is supplied with a 33 mm socket, 1-1/2 in. socket
and
an extension for use with the air wrench when replacing a
tire.
(3)
Install socket (5) on air wrench (4).
(4)
Start engine and build air pressure to 125

±

4 psi (862

±

28 kPa)
(Para 2-15).
NOTE
Reversing button pressed in at front of handle will loosen
nuts.  Reversing button pressed in at rear of handle will
tighten nuts.
(5)
Press reversing button (6) to desired position.