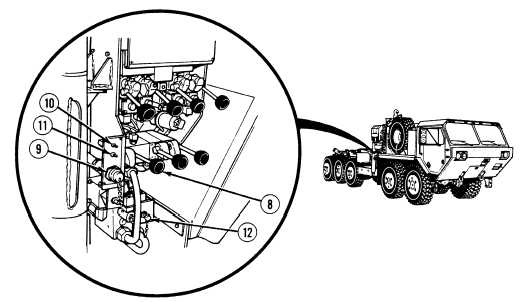 TM 9-2320-364-10
2-34     
2-3.  LOCATION AND USE OF CONTROLS AND INDICATORS
(CONT).
Figure 2-13.  Right Hand Crane and Outrigger Jack Control Panel - CONT.
Key
Control or Indicator
Function
8
LH O/R JACK Control
Lowers and raises the left outrigger jack.
9
RH Remote Control
Hookup
Connection for the remote control when used
on RH side.
10
Main Power Switch
Provides electrical power to the crane and
outrigger jacks.  Protects crane electrical
systems.
11
High Idle Switch
Raises and latches the truck engine speed at
high idle for crane operation.
12
MHC SYSTEM
HYDRAULIC PRESSURE
MANUAL OVERRIDE
Remove safety wire then push in and hold to
allow manual override to function when the
outrigger jack safety circuit has failed
(outrigger jacks are deployed but crane boom,
telescope, swing and hoist functions do not
operate).