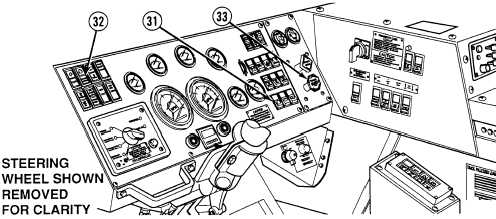 TM 9-2320-364-10
2-73
Table 2-1.  Operator's Preventive Maintenance Checks
and Services (Before) - CONT.
Location
Item
No.
Interval
Item to
Check/
Service
Procedure
Not Fully Mission
Capable if:
NOTE
Transfer case may be hard to shift and get into gear.  If this condition exists,
move truck forward slightly, apply brake and place transmission to Neutral
(N), prior to attempting to shift transfer again.
11
Before
Controls and
Indicators -
Cont.
(v)  Check ENGINE BRAKE
SWITCH (31) for operation.  Place
transfer case shift lever in
Neutral (N) and transmission in
Drive (D).  Set ENGINE BRAKE
SWITCH (31) to high position,
engine brake light (32) will light,
accelerate engine to approximately
1800 rpm for five seconds.
Quickly release the throttle pedal.
Decompression of engine will be
heard in the exhaust tone.  Place
transmission in Neutral (N) and
transfer case shift lever in HI (HI).
Engine brake is
operative.
(w)  Check operation of the trailer
air supply control (33).
Trailer air supply does
not operate properly.