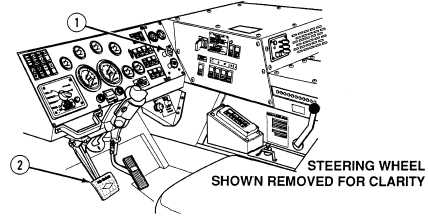 TM 9-2320-364-10
2-76     
Table 2-1.  Operator's Preventive Maintenance Checks
and Services (Before) - CONT.
Location
Item
No.
Interval
Item to
Check/
Service
Procedure
Not Fully Mission
Capable if:
∑
Before performing the next step, ensure that no personnel are in
front of truck.  Be ready to apply the service brake.  Operator
must remain in cab while performing this check to prevent
possible serious injury or death to other personnel.
∑
Ensure air pressure is between 110 to 125 psi (758 to 861 kPa) or
injury to personnel may result.
12
Before
Service and
Parking
Brake
(a)  Check for proper operation of
parking brake (1).  With engine at
idle, apply parking brake and
engage transmission in Drive (D).
Increase engine speed slowly to
1000 rpm.  Truck should not move.
Truck moves.
(b)  Check brakes by moving truck
approximately 60 ft. (18.3 m) and
steadily apply service brake
pedal (2).  Truck should stop
smoothly without noticeable side
pull and vibration.  Place
transmission in neutral.
Service brakes do
not operate properly
or pull to either side.