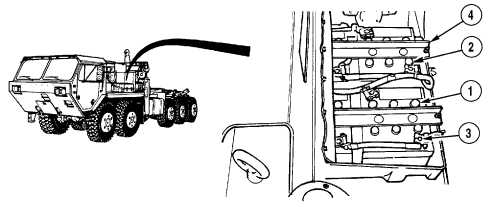 TM 9-2320-364-10
2-118     
Table 2-4.  Operator's Preventive Maintenance Checks and
Services (Weekly) - CONT.
Location
Item
No.
Interval
Item to
Check/
Service
Procedure
Not Fully Mission
Capable if:
∑
Lead-acid battery gases can explode.  Do not smoke, have
open flames, or make sparks around a battery, especially if caps
are off.  If a battery is gassing, it can explode and cause injury to
personnel
∑
Remove all jewelry such as rings, dog tags, bracelets, etc.  If
jewelry or tools contact positive electrical circuits a direct
short may result.  Damage to equipment, injury or death to
personnel may occur.
80
Weekly
Batteries -
(Cont).
(b)  Visually check for missing
battery caps (1).  Check electrolyte
level.  Electrolyte should be filled
to approximately 1/8 in. (3.2 mm)
below level/split ring in the battery
filler opening (vent).  Visually
inspect batteries for cracked and
leaking casing (2), broken, loose,
burned, and corroded terminal
posts (3), loose, or missing hold
downs (4).  Install battery box
cover.
Battery is
unserviceable,
missing, leaking,
terminals or cables
are loose, corroded,
burnt, or hold
downs are not
secure.