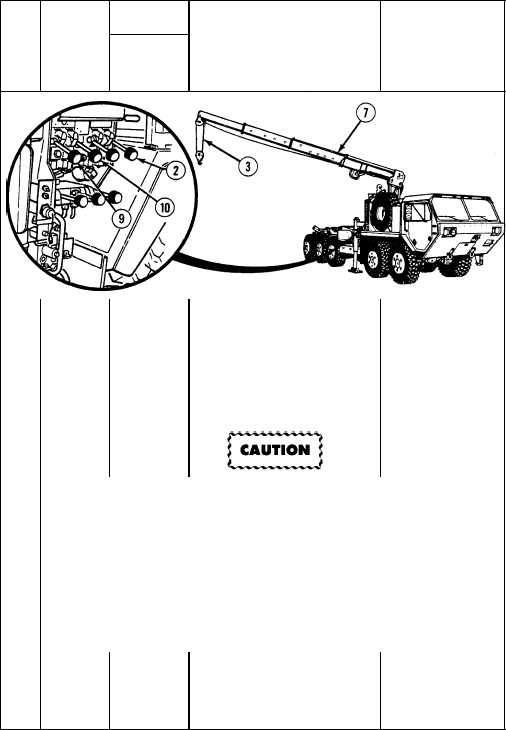 TM 9-2320-364-10
2-138     
Table 2-5.  Operator's Preventive Maintenance Checks
and Services (Monthly) - CONT.
Location
Item
No.
Interval
Item to
Check/
Service
Procedure
Not Fully Mission
Capable if:
97
Monthly
Crane
Control
Levers -
(Cont).
(i)  Move SWING control lever (9)
to clockwise position to move
boom (7) clockwise.  Check that
boom does not turn
counterclockwise.
(j)  Rotate boom counterclockwise
to right side of truck, between
outrigger jack and LHS hook.
∑
Keep hook block at least two ft. (0.61 m) from end of boom.  If
hook block hits end of boom it may damage cable or hook block
and crane will lose control functions.  Wait six seconds for power
to return and check crane for damage.
∑
Do not let cable unwind and become slack or cable may get
tangled on drum.
NOTE
∑
Operate TELESCOPE and HOIST levers at the same time.
∑
Crane movements from one lever may be slower than other when
operating two levers together.
(k)  Move TELESCOPE control
lever (10) to OUT position to
extend boom (7) while moving
HOIST control lever (2) to DOWN
position to pay out cable (3).
Boom will not
telescope.