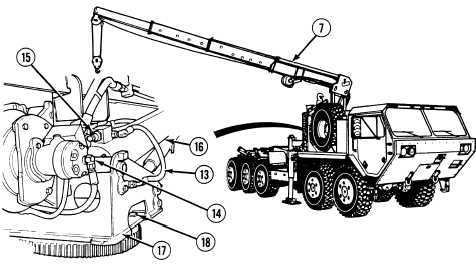 TM 9-2320-364-10
2-140     
Table 2-5.  Operator's Preventive Maintenance Checks
and Services (Monthly) - CONT.
Location
Item
No.
Interval
Item to
Check/
Service
Procedure
Not Fully Mission
Capable if:
97
Monthly
Crane
Control
Levers -
(Cont).
(q)  Check first, second, third, and
fourth extensions of boom (7) for
broken welds and obvious damage.
Operator should be stationed to be able to see load at all times
during crane operation.  Operate crane from RH or LH remote
control station if load is not visible from main crane control panel.
Boom and load moving out of control could cause serious injury to
death.
(r)  Check all hoses (13),
fittings (14), valves (15) and
cylinders (16) for signs of leaks.
Class III leak is
evident.
(s)  Check for cracked and broken
welds (17).
(t)  Check turntable bearing
bolts (18) for obvious looseness.