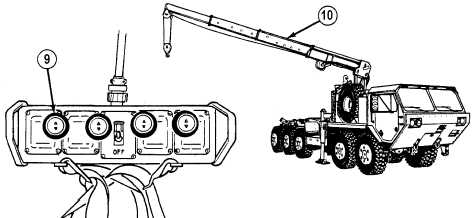 TM 9-2320-364-10
2-146     
Table 2-5.  Operator's Preventive Maintenance Checks
and Services (Monthly) - CONT.
Location
Item
No.
Interval
Item to
Check/
Service
Procedure
Not Fully Mission
Capable if:
∑   

Ensure that area is clear of personnel before moving SWING
control lever.  Boom should be swung slow enough so crane
operator has complete control.  If operator cannot see load during
operation, operate crane from REMOTE CONTROL UNIT.  Boom
moving out of control could cause serious injury or death.
∑   

If electrical power fails during crane operation, move switch on
remote control unit to SHUTDOWN position.  Serious injury
could result from uncontrolled moving parts.
Boom must be horizontal or above for clearance over LHS hook
arm to avoid damage to truck boom or hook arm.
NOTE
Operate control levers with light even pressure.  Moving lever
slightly will cause slow movement of crane.  Moving lever to full
travel will cause faster movement of crane.  Rotation of the crane is
limited to 180 degrees.
99
Monthly
Crane
Remote
Controls -
(Cont).
(i)  Move SWING control
lever (9) in CCW position to turn
boom (10) counterclockwise. Be
sure boom rotates
counterclockwise.