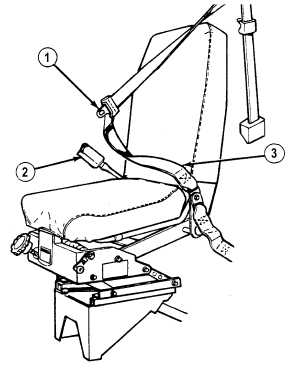 TM 9-2320-364-10
2-156     
2-12.  PREPARATION FOR OPERATION (CONT).
e.
Operate Seat Belt.
Always use seat belts when operating truck.  Failure to use
seat belt can result in serious injury in case of accident.
NOTE
The seat belt/shoulder belt is two belts combined together.
The belt below the buckle is the seat belt, the belt above
the  buckle is the shoulder belt.
(1)
Push seat belt/shoulder belt clip (1) into buckle (2) until a click is heard.
(2)
Place seat belt (3) as low on hips as possible.