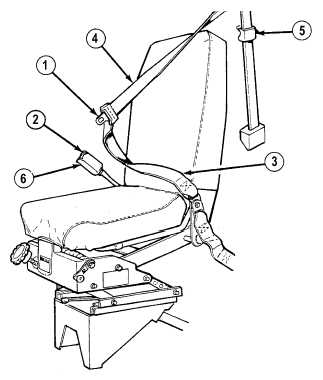 TM 9-2320-364-10
2-157
NOTE
Seat belt does not have self-adjusting lock.  Take slack out
of seat belt by pulling on shoulder belt end.  Adjust
shoulder belt until snug against chest (no more than one
inch away).
(3)
Pull shoulder belt (4) until the seat belt (3) fits snug at drivers hips.
(4)
Adjust shoulder belt (4) length by releasing latch (5) and adjusting shoulder
belt no more than one inch away from chest.  Engage latch to hold
adjustment.
(5)
To release the seat belt/shoulder belt clip (1), push in release button (6) and
pull clip from buckle (2).