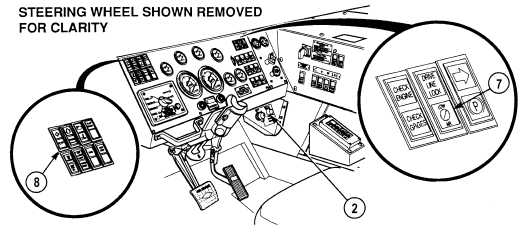 TM 9-2320-364-10
2-169
Ensure that all personnel are clear of truck before engine start is
attempted.  Operator must visually check to see that all areas of the
truck are clear of personnel before attempting to start engine.  Failure to
do so could result in serious injury or death to personnel.
·
If engine fails to start after five (15 second) start attempts, refer to
Troubleshooting Symptoms Para 3-3 or equipment damage may occur.
·
Do not turn ENGINE switch to START position while engine is rotating,
or damage to equipment may result.
NOTE
·
Check engine lamp will illuminate for 10 to 15 seconds after start-up.
·
If engine fails to start, the ENGINE switch must be turned to OFF
position, prior to the next start attempt.  This will disengage an Engine
Restart Interlock which prevents starter engagement from the ON
position.
d.
Turn the ENGINE switch (2) to START for about 15 seconds or until engine
starts.  When engine starts, release switch.  ENGINE switch will spring back
to ON position.  If engine fails to start, wait 15 seconds before next start
attempt to allow starter to cool.  Air pressure indicator (7) and oil pressure
lamp (8) may light and buzzer may sound briefly.