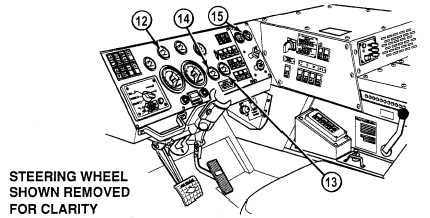 TM 9-2320-364-10
2-173
NOTE
WATER TEMP gage may not show reading at engine idle.
j.
Check that the WATER TEMP gage (12) does not read over 210 degrees F
(99 degrees C).
k.
Check that 24-volt BATTERY gage (13) reads between 26 to 28 volts.
l.
Check that 12-volt BATTERY gage (14) reads between 13 to 14 volts.
m.
Check that the air filter restriction indicator (15) reads less than 17 inches
(4.2 kPa).