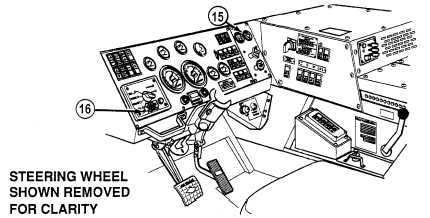 TM 9-2320-364-10
2-174     
2-15.  NORMAL STARTING (CONT).
NOTE
Truck may be operated until air filter restriction indicator
reads up to a maximum of 20 inches (5.0 kPa) with a loss
of performance and fuel economy.
n.
If the air filter restriction indicator (15) reads 17 inches (4.2 kPa) or more,
notify Unit Maintenance to change air filter element.
CTIS ON/OFF switch should be in ON position at all times.
Overspeed protection will not operate if switch is in OFF
position and tire pressures may not match driving speeds.
Failure to follow these instructions may result in unsafe
driving conditions or tire failure causing serious injury or
death to personnel.
NOTE
CTIS lights will briefly flash and then extinguish when
the CTIS is turned on.  A steady green light will remain at
the position the CTIS is set.
o.
Check that CTIS ON/OFF switch (16) is set to ON.