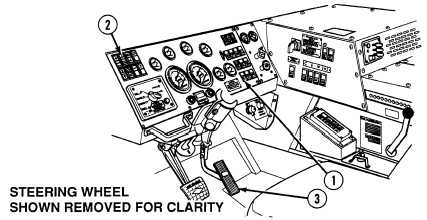 TM 9-2320-364-10
2-180     
2-18.  OPERATING ENGINE BRAKE.
Apply engine brake only when truck tires have good traction.
Use of engine brake on slick surfaces can cause truck to skid and
cause injury or death to personnel.
NOTE
·
Use engine brake only when additional braking is required (i.e.
descending grades).
·
Wheel brakes must be used in addition to engine brakes for
maximum braking.
·
The engine brake switch has three positions:  OFF (Top Position),
LOW (Center Position), and HIGH (Bottom Position).
a.
Set the ENGINE BRAKE switch (1) to LOW, indicator light (2) will light.
NOTE
Engine brake does not operate below 1000 rpm.
b.
Lift foot off the throttle control (3).  Engine brake will automatically slow truck.