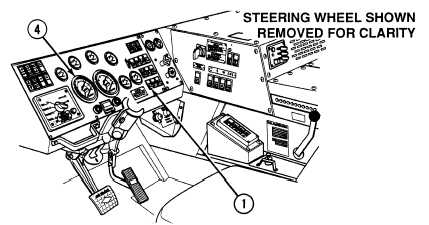 TM 9-2320-364-10
2-181
c.
The transmission will select the optimum gear when using the engine brake.  It
should keep the rpm between 1650 and 2100.  At 2100 rpm the engine brake
will give its peak retarding horsepower.
d.
Optimum braking occurs with engine between 1650 and 2100 rpm.  Select
appropriate transmission range and engine brake to maintain desired effect.  Do
not over "rev" engine during braking.
e.
If more braking is required, set ENGINE BRAKE switch (1) to HIGH.
f.
Check that tachometer (4) reads between 1650 and 2100 rpm whenever engine
brake is used.