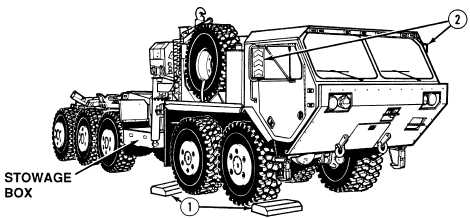 TM 9-2320-364-10
2-182     
2-19.  ON-ROAD DRIVING PROCEDURES.
·
Speed limits posted on curves reflect speeds that are considered
safe for automobilies.  Heavy trucks with a high center of gravity
can roll over at these speed limits.  Use caution and reduce your
speed below the posted limit before entering a curve.  Failure to
comply may result in vehicle crash and injury or death to
personnel.
·
When operating truck at speeds of 55 mph (89 km/hr) with
windows down, or when operating crane, hearing protection
must be worn or hearing loss may result.
NOTE
If truck has less than 500 miles (805 km), check controls
and indicators more often during operation and listen for
unusual noises or vibrations.  Refer to Troubleshooting
Symptoms Para 3-3, if you encounter any problems.
(1)
Remove and stow wheel chocks (1) in stowage box.
(2)
Ensure Material Handling Crane (MHC) and outrigger jacks are secured in
stowed position.
(3)
Adjust each rear view mirror (2) so back of truck and view of road can be
seen.
(4)
Adjust foot rest if required (Para 2-12).
(5)
Adjust seat as needed (Para 2-12).
(6)
Adjust seat belt as needed (Para 2-12).