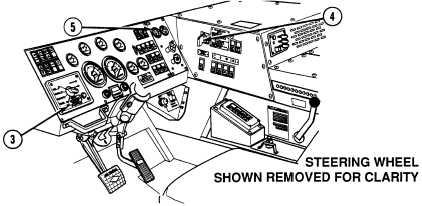 TM 9-2320-364-10
2-183
CTIS ON/OFF switch should be in ON position at all times.
Overspeed protection will not operate if switch is in OFF
position and tire pressures may not match driving speeds.
Failure to follow these instructions may result in unsafe
driving conditions or tire failure causing serious injury or
death to personnel.
(7)
Push on CTIS ON/OFF switch (3) on ON position.
During driving operations, LHS mode selector must be placed
in OFF position or hydraulic system overheating will result.
(8)
Ensure hydraulic selector switch (4) is in the OFF position.
(9)
Start engine (Para 2-15).
(10)
Turn on lights as needed (Para 2-14).
Rapid operation repeatedly of service brakes will consume
compressed air supply and cause automatic spring brake
application.  Failure to follow proper service brake operating
procedures may cause serious injury or death to personnel.
(11)
Ensure the needles in AIR PRESS gage (5) read at least 100 psi (690 kPa)
before driving truck.