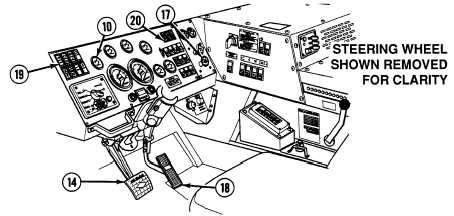 TM 9-2320-364-10
2-186     
2-19.  ON-ROAD DRIVING PROCEDURES (CONT).
(17).
(22)
Release the service brake pedal (14) and slowly press down on throttle
control (18) until truck reaches desired speed.
·
Do not hold steering wheel at full left or full right for  longer
than ten seconds.  Oil overheating and pump damage can result.
·
The CTIS increases tire inflation pressure when truck speed
exceeds the allowable speed for each setting.  When an increase
in speed is required, maintain the lower speed until the tires are
re-inflated to the correct pressure, to prevent damage to tires.
NOTE
Check controls and indicators often during truck
operation.
(23)
Accelerate, brake and steer as required.
NOTE
Engine oil pressure has three monitoring systems, (oil
light, CHECK GAGES light, and oil pressure gage) if two
of the three systems, indicate a problem, park truck, shut
down engine and notify Unit Maintenance.  If only one
system indicates a problem, and the other two indicate
normal, proceed with mission and then notify Unit
Maintenance.
(24)
Check the engine oil pressure by monitoring oil light (19), CHECK
GAGES light (20) and OIL PRESS gage (10).