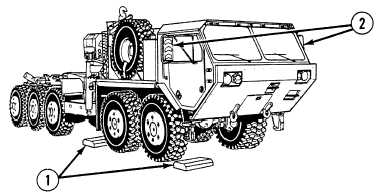 TM 9-2320-364-10
2-189
b.
Reverse.
Backing the truck and trailer for minor repositioning is permitted
without locking the turntable, provided caution is used when backing
up. Failure to keep the trailer and truck aligned while backing up
could result in the trailer jackknifing, possibly causing severe drawbar
and truck damage.
Trailer turntable must be unlocked after completing backing
operations. Failure to unlock turntable will result in a sheared pin or
damaged trailer.
(1)
If trailer is attached to truck, lock turntable on trailer (TM 9-2330-385-14).
(2)
Remove and stow wheel chocks (1).
Mirrors should be folded in before backing out of an enclosed
area.  Damage to equipment may result.
(3)
Turn each rear view mirror (2) so back of truck and view of road can be
seen.
(4)
Adjust foot rest if required (Para 2-12).
(5)
Adjust seat as needed (Para 2-12).