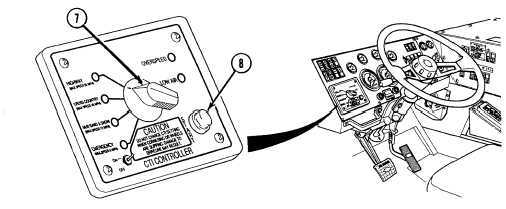 TM 9-2320-364-10
2-191
(9)
Set the CTIS rotary selector switch (7) to the appropriate position.  Press
and hold CTIS START switch (8) for approximately one second.
Rapid operation repeatedly of service brakes will consume
compressed air supply and cause automatic spring brake
application.  Failure to follow proper service brake operating
procedures may cause serious injury or death to personnel.
(10)
Turn on lights as required (Para 2-14).
(11)
Check gages and indicators for normal readings (Para 2-19).