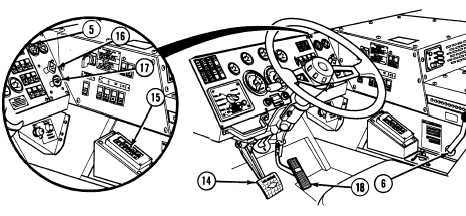 TM 9-2320-364-10
2-192     
2-19.  ON-ROAD DRIVING PROCEDURES (CONT).
(12)
Check that AIR PRESS gage (5) reads at least 100 psi (690 kPa).
Driver has limited vision to rear.  Ground guide is required
when driving truck in reverse to prevent possible injury.
Do not move TRANSFER CASE shift lever when truck is
moving or when transmission is in gear.  Severe damage to
drive line will result.
(13)
Set the TRANSFER CASE shift lever (6) to desired range (Para 2-17).
(14)
Apply service brake pedal (14) and press the transmission range selector
(15) button Reverse (R).
(15)
Push in the parking brake control (16).
(16)
If trailer is attached to the truck, push in the trailer air supply control (17).
(17)
Release the service brake pedal (14) and slowly press down on throttle
control (18).
(18)
Follow direction from ground guide.