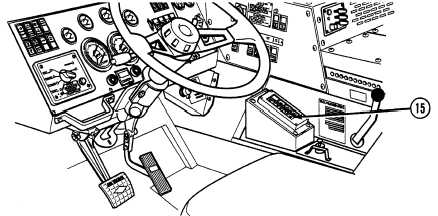 TM 9-2320-364-10
2-193
Do not hold steering wheel at full left or full right position for
longer than ten seconds.  Oil overheating and pump damage
can result.
(19)
Accelerate, brake and steer as required.
c.
Slippery Conditions On Road or Off Road.
Apply engine brake only when truck tires have good traction.
Use of engine brake on slippery surface can cause truck to
skid and cause injury to personnel.
Do not change setting of the CTIS rotary selector switch while
the wheels are in a slip condition.  Severe damage to drive
train will result.
NOTE
A lower range will give better control on slick or icy
roads as well as on steep downgrades.
(1)
Manually downshift the transmission range selector (15) to match driving
conditions.