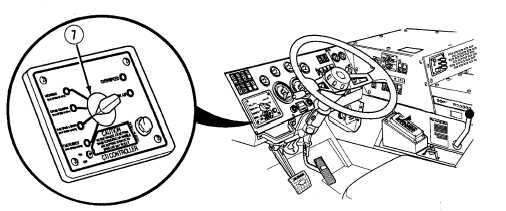 TM 9-2320-364-10
2-194     
2-19.  ON-ROAD DRIVING PROCEDURES (CONT).
When using EMERGENCY position on CTIS, top speed
should not exceed five mph (eight km/h) and distance
travelled should not exceed five miles (eight km).  Care must
be exercised as steering response is limited due to full drive
line lock-up or damage to equipment may result.  Refer to
Table 2-1.
NOTE
Refer to Table 1-28 for additional information.
(2)
For maximum traction under adverse conditions, set the CTIS
rotary selector switch (7) to MUD, SAND, AND SNOW position,
or if conditions warrant, to the EMERGENCY position.