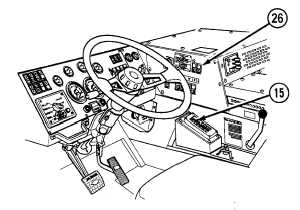 TM 9-2320-364-10
2-195
Do not engage transfer case lockup while wheels are slipping
or when turning a corner.  Damage to drive line may result.
(3)
Engage the TRANSFER CASE LOCK-UP (26) as required.  Refer to Table
1-28.
Increased tire and drive line wear will occur when the transfer
case is locked.
(4)
When conditions improve or grade is crested, return the transmission range
selector (15) to normal position, and push the TRANSFER CASE
LOCK-UP switch (26) to the unlock position.
(5)
If CTIS EMERGENCY was selected, back truck up approximately 5 to 10
ft. (1.5 to 3 m) to relieve drive line loading.