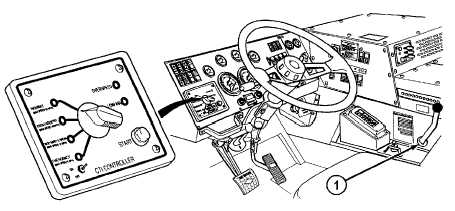 TM 9-2320-364-10
2-196     
2-20.  OFF-ROAD DRIVING PROCEDURES.
·
Speed limits posted on curves reflect speeds that are considered safe
for automobilies.  Heavy trucks with a high center of gravity can roll
over at these speed limits.  Use caution and reduce your speed below
the posted limit before entering a curve.  Failure to comply may result
in vehicle crash and injury or death to personnel.
·
The PLS center of gravity (CG) can be higher during Engineering
Mission Module (EMM) operations than for other PLS operations.  A
higher CG limits cornering and side slope capabilities.  Use extreme
caution during cornering and side slope operations when an EMM is
loaded onto PLS truck.  Failure to comply may result in vehicle rollover
causing injury or death to personnel.
Before operating off-road, mud flaps need to be pinned on
storage hook located on mud flap bracket.  If a steep slope is
encountered and mud flaps are not pinned, damage can result.
a.
Place transfer case lever (1) in proper range (Para 2-17).