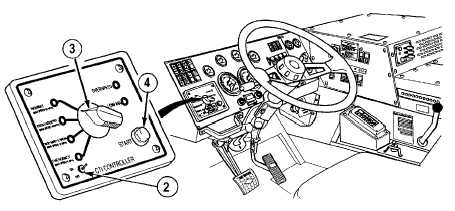 TM 9-2320-364-10
2-197
CTIS ON/OFF switch should be in ON position at all times.
Overspeed protection will not operate if switch is in OFF position
and tire pressures may not match driving speeds.  Failure to
follow these instructions may result in unsafe driving conditions
or tire failure causing serious injury or death to personnel.
NOTE
If it becomes necessary to disable the CTIS, the tires will
have to be manually inflated or deflated (Para 2-57j).
b.
Push CTIS ON/OFF switch (2) to ON position.
NOTE
·
CTIS may not engage properly if CTIS START button is pressed
too quickly.
·
For a detailed explanation of the CTIS, refer to Para 2-24.
·
Allow time for CTIS adjustment.
c.
Set CTIS rotary selector switch (3) to desired position.  Refer to Table 1-28.
Press and hold CTIS START button (4) for approximately one second (Para 2-24).