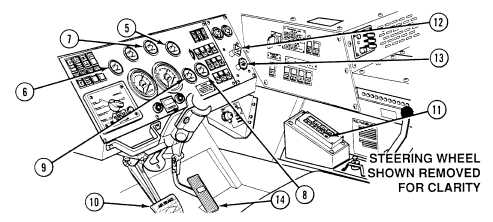 TM 9-2320-364-10
2-198     
2-20.  OFF-ROAD DRIVING PROCEDURES (CONT).
d.
Check that the FUEL gage (5) shows enough fuel to complete mission.
e.
Check that the OIL PRESS gage (6) reads 5 to 10 psi (34 to 69 kPa) during
idle or 40 to 60 psi (276 to 414 kPa) above idle.
f.
Check that the TRANS TEMP (transmission temperature) gage (7) reads 180
to 220 degrees F (82 to 104 degrees C) after transmission has warmed up.
g.
Check that the 24-volt battery gage (8) reads 26 to 30 volts.
h.
Check that the 12-volt battery gage (9) reads 13 to 15 volts.
i.
Apply the service brake pedal (10) and press the transmission range selector
(11) button to appropriate range.  Drive (D) for normal highway and 4, 3, 2
or 1 for off road, steep grades or slippery conditions.
j.
Push in the parking brake control (12) to release brakes.
k.
If the trailer is attached to truck, push in trailer air supply control (13).
l.
Relase the service brake pedal (10) and slowly press down on the throttle
control (14) until truck reaches desired speed.