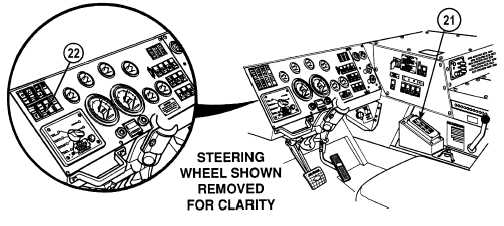 TM 9-2320-364-10
2-201
DO NOT SHIFT light will illuminate when there is a problem
with the transmission that can cause serious damage and
possible failure of the transmission.
r.
If the DO NOT SHIFT light (21) illuminates while driving, find a safe place
to pull over and stop.  Refer to Troubleshooting Symptoms Para 3-3 in this
manual.
If EMERGENCY STEER light illuminates when driving,
immediately pull truck over to side of road and stop.  Serious
injury or death could result.
s.
If the EMERGENCY STEER light (22) illuminates, there is a problem in the
primary hydraulic steering system, and the emergency steering back up
hydraulic system has been activated.  As truck speed gets below
approximately 15 mph (24 km/hr) increased steering effort will be required
to steer truck.  Notify Unit Maintenance.