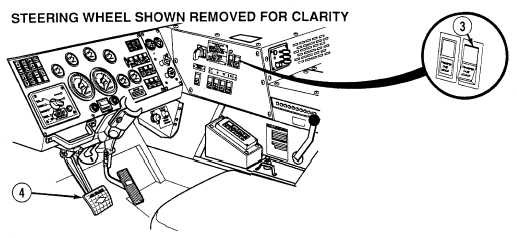 TM 9-2320-364-10
2-205
Excessive wheel slippage while traveling up a steep upgrade
could cause drive line damage.  When wheel slippage is
detected, immediately stop the truck.
(4)
Proceed up the grade by releasing service brake pedal (4) and gradually
applying throttle as traction allows.  If wheels start to slip, stop truck and go
to Step (7).
(5)
After reaching the top of the grade, stop the truck and unlock transfer
case (3).  Select appropriate transmission gear, transfer case range and
CTIS setting for the terrain.
(6)
If CTIS EMERGENCY was selected, back truck up approximately five to
ten ft. (1.5 to 3 m) to relieve drive line loading.