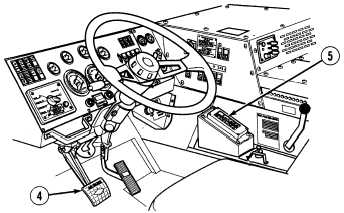 TM 9-2320-364-10
2-207
b.
Driving Down Steep Grades.
·
Do not allow speed to go above 2100 rpm when driving
downhill or damage to engine can result.
·
Engine brake operates best when engine speed is between 1650
and 2100 rpm.  Transmission torque converter lockup will
disengage below 1650 rpm resulting in loss of engine braking.
(1)
Adjust transmission range selector (5) as needed.
Rapid operation repeatedly of service brakes will consume
compressed air supply and cause automatic spring brake
application when pressure drops below 45 psi (310 kPa).
Failure to follow proper service brake operating procedures
may cause serious injury or death to personnel.
If pulling trailer during periods of heavy braking, trailer
brakes may over adjust and cause trailer brakes to drag when
brake drums cool down.  If this occurs, notify Unit
Maintenance.  Failure to comply may result in damage to
equipment.
(2)
Use service brake (4) as needed to control truck speed.
(3)
Use engine brake as needed (Para 2-18).