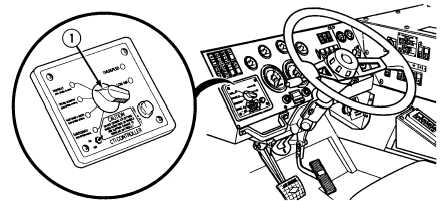 TM 9-2320-364-10
2-212     
2-24.  CENTRAL TIRE INFLATION SYSTEM (CTIS) (CONT).
b.
Operation.
(1)
The CTIS rotary selector switch (1) directly controls the driveline axle
lockup selection as shown above regardless of speed, LED indication or
CTIS being ON or OFF.  The CTIS system is operational only when the
ignition switch is on.
·
Do not move the rotary selector switch to change CTIS setting
while the wheels are slipping or turning a corner.  Damage to
driveline may result.
·
The CTIS increases tire inflation pressure when truck speed
exceeds the allowable speed for each setting.  When an increase
in speed is required, maintain the lower speed until the tires are
re-inflated to the correct pressure.