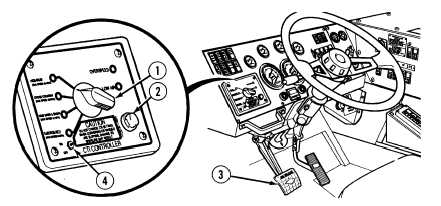 TM 9-2320-364-10
2-213
NOTE
·
Select the proper CTIS setting before entering an area where
poor traction conditions are likely to occur.
·
To allow faster inflation time when truck is parked with engine
running, transmission in neutral and parking brake applied, it
may be necessary to increase engine speed to approximately
2100 rpm.
·
If the CTIS malfunctions, turn the ON/OFF switch to OFF, then
turn to ON.  This action will reset the controller and may
eliminate the problem.
·
If it becomes necessary to disable the CTIS, the tires will have
to be manually inflated or deflated (Para 2-57j).
(2)
The CTIS rotary selector switch (1) setting may be changed by the operator
with the truck stationary or moving.  This action will engage a new
driveline axle lockup mode.  This does not change the CTIS setting unless
the CTIS START button (2) is pressed to initiate the change.  To change the
CTIS selector rotary switch setting while moving, drive the truck in a
straight line and momentarily let up on the throttle control (3).  This allows
driveline axle lockups to engage.  The CTIS ON/OFF switch (4) is used to
turn the CTIS ON/OFF.  Normally the CTIS will be left in the ON position.
CTIS ON/OFF switch should be turned to OFF position when a CTIS
system failure occurs.