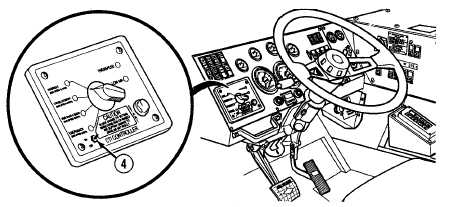 TM 9-2320-364-10
2-214     
2-24.  CENTRAL TIRE INFLATION SYSTEM (CTIS) (CONT).
(3)
The CTIS controller performs a speed sensing operation which computes
the average truck speed during a one minute period.  The average speed is
compared to the maximum speed allowed for the current setting, and if the
average speed exceeds the allowed maximum speed the CTIS is
automatically engaged to inflate the tires to the next higher setting.
Driveline axle lockup is not affected by automatic CTIS engagement.
Driveline axle lockup for interaxle differential and side to side axle lockup
is engaged through the CTIS rotary selector switch.  The driveline axle
lockup function will still work when the CTIS ON/OFF switch (4) is turned
to the OFF position.  Transfer case lockup is controlled by a separate switch
located on the side panel.
Table 2-7. CTIS Maximum Air Pressure Settings (Cold or Hot)
SETTING
FRONT WHEELS
REAR WHEELS
1.  HIGHWAY
65 psi (448 kPa)
75 psi (517 kPa)
2.  CROSS COUNTRY
34 psi (234 kPa)
38 psi (262 kPa)
3.  MUD, SAND AND
SNOW
20 psi (138 kPa)
23 psi (159 kPa)
4.  EMERGENCY
15 psi (103 kPa)
18 psi (124 kPa)