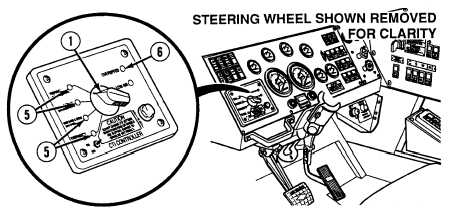 TM 9-2320-364-10
2-215
The CTIS rotary selector switch setting should always
correspond to the lighted setting.  If the light and switch
positions do not match, the operator must take steps to correct
the situation.  Failure to comply could cause unexpected
adjustment of tire pressures, which may result in damage to
equipment.
(4)
A steady green light (5) at the initial switch setting is normal when the
CTIS is inflated to selected level.  Also, the driveline lock up selection is
engaged for this setting.  If no changes in the CTIS setting occur during a
60 minute period, a check cycle is initiated by the controller to check the air
pressure in the tires and adjust the pressure as required.
(5)
If the average truck speed exceeds the speed limit of the setting for a period
of one minute, the amber overspeed light (6) will begin to flash slowly.  At
the same time the amber overspeed light starts to flash, the CTIS will be
activated to inflate the truck tires to the next higher setting.
(a)
While the CTIS is inflating, the green light at the next higher level
setting will also flash slowly until the next higher setting is reached.
(b)
When the next higher CTIS setting is reached, the amber overspeed
light will stop flashing and be extinguished.  The green light indicating
the new CTIS setting will begin to flash rapidly.  This indicates to the
operator that the CTIS setting and driveline lockup setting no longer
match.
(c)
If CTIS setting and driveline lockup do not match, operator must
perform one of the following:
1
Move CTIS rotary selector switch (1) to the lighted position to
match driveline lockup to tire pressure.