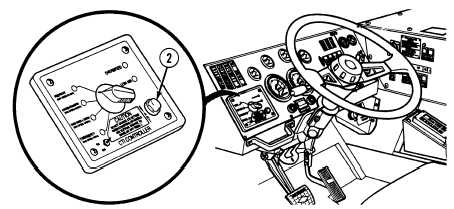 TM 9-2320-364-10
2-216     
2-24.  CENTRAL TIRE INFLATION SYSTEM (CTIS) (CONT).
2
Reduce speed and press the CTIS START button (2) for at least
one second to lower tire pressure to match CTIS rotary selector
switch setting.
(6)
If the average truck speed is allowed to exceed the new CTIS setting for
another minute, the CTIS will again activate to inflate the tires to next
higher setting.
(7)
If the truck continues to overspeed, the CTIS will automatically adjust the
tire pressure up to the next higher setting until highway setting is achieved.
(8)
If the truck has been overspeeding and the CTIS has engaged to inflate to
the next higher setting, decreasing the speed will not automatically lower
the tire pressure.  The operator must reduce speed and press the CTIS
START button (2).
(9)
The CTIS will automatically turn off and the red LOW AIR light will light
solid if the truck air pressure drops below a predetermined level
(approximately 90 psi (621 kPa)) to provide priority to the brake system.  It
will automatically resume operation when the air pressure builds up to a
higher setting (approximately 110 psi (758 kPa)).  The driveline lockup
setting is not affected when the CTIS shuts off due to a low air pressure
condition.