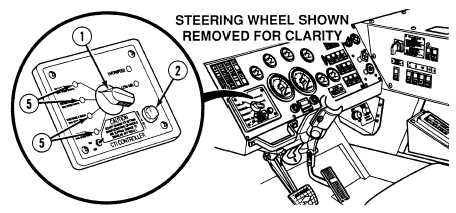 TM 9-2320-364-10
2-217
c.
Operating Procedures.
Do not move the CTIS rotary selector switch while the wheels
are slipping or turning a corner.  Damage to driveline may
result.
NOTE
·
Select the proper CTIS setting before entering an area where
poor traction conditions are likely to occur.
·
If truck is stopped during CTIS mode change, an increase in
engine rpm is required to provide adequate air supply.  An
increase in rpm is generally not required during normal
operation.
(1)
Set CTIS rotary selector switch (1) for correct driveline lockup and tire
pressure to match anticipated driving conditions.  See Table 1-28.
(2)
Start truck (Para 2-15).
NOTE
CTIS may not engage properly if CTIS START button is
pressed too quickly.
(3)
Press and hold CTIS START button (2) on the controller for approximately
one second to activate the CTIS system.
(4)
Observe green lights (5) on controller to check system operation.