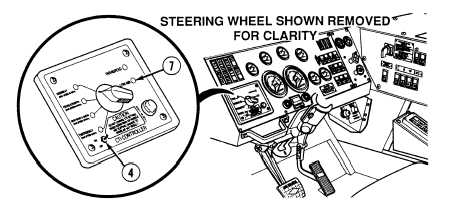 TM 9-2320-364-10
2-219
(e)
A solid red low air light (7) indicates the CTIS has turned off due to a
low air pressure in the braking system.
NOTE
The CTIS automatically checks for moderate to large
leaks or air loss.  This will safeguard against all of the
tires going flat when one of the tires has blown and the
CTIS is turned ON.
(f)
If a moderate to large leak is detected after about 30 seconds, the red
low air light (7) will flash to confirm the leak.  Turn the CTIS
ON/OFF switch (4) to OFF and test entire system for air leak.
1
If no leak is found, restart the CTIS.  If the air leak is still
present, the red low air light (7) will again flash after 30 seconds,
only allowing time for searching leaky connections.  This cycle
for detecting leaks may be repeated many times.