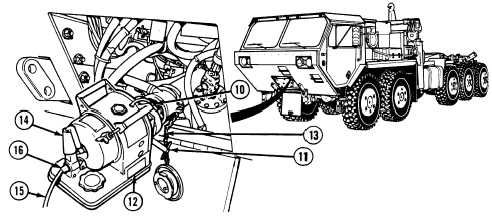 TM 9-2320-364-10
2-230     
2-28.  AUXILIARY EQUIPMENT (CONT).
(b)
Turn wingnut (11) on arctic heater (12) counterclockwise to open.
(c)
Check the gasket (13) for proper placement and for damage.
(d)
Insert the arctic  heater (12) into water jacket (10) with hand pump
lever (14) in a vertical position.
(e)
Tighten the wingnut (11) clockwise.
Battery voltage must be identical to voltage shown on hand
pump lever or damage to equipment may result.
(f)
Ensure heater (12) is set to 24 volts and plug cable (15) into starting
cable connector (16) on arctic heater (12).