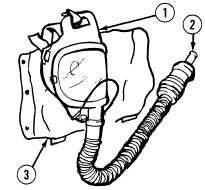 TM 9-2320-364-10
2-234     
2-28.  AUXILIARY EQUIPMENT (CONT).
b.
Gas Particulate Filter Unit (GPFU).
·
If NBC exposure is suspected, all air filter media should be
handled by personnel wearing protective equipment.  
Consult your unit NBC Officer or NBC NCO for  appropriate
handling or disposal procedures.
·
Protective mask and filter unit will not protect against
carbon monoxide.
NOTE
·
Perform Steps (1) through (9) only when under Nuclear,
Biological, or Chemical (NBC) attack or when ordered to
do so.
·
For detailed information concerning protective mask refer
to TM 3-4240-280-10.
·
There are two M-3 heaters, hoses and air duct sockets.
(1)
Remove protective mask (1) and canister (2) from pouch (3).
(2)
Put on protective mask (1).
(3)
Clear and seal protective mask (1).