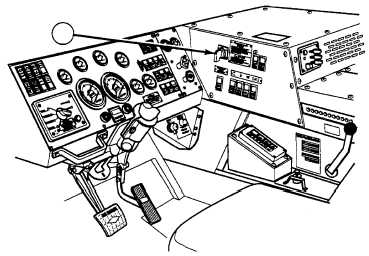 TM 9-2320-364-10
2-243
(2)
Disconnect from Power Interface Kit.
·
Hydraulic fluid is under great pressure. Engine on truck must be
shut off while connecting hydraulic lines. Failure to do so could
cause serious injury or death to personnel.
·
Hot hydraulic oil may cause serious burns.
·
When disconnecting block, the hydraulic fluid will be under
great pressure. Ensure to have a firm grip on female quick
disconnect and lever to avoid an uncontrolled disconnect that
could cause injury to personnel and damage to equipment.
Engine speed must be at idle before using hydraulic selector
switch or damage to equipment may result.
(a)
Set the hydraulic selector switch (10) in OFF position.
(b)
Shut OFF engine (Para 2-23).
10
STEERING

WHEEL
SHOWN

REMOVED
FOR

CLARITY