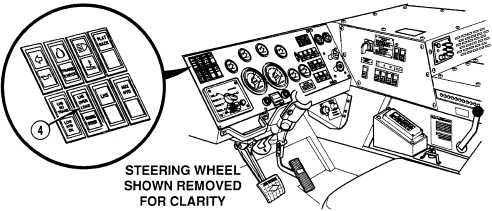 TM 9-2320-364-10
2-248     
2-29.  LOAD HANDLING SYSTEM (LHS) (CONT).
NOTE
To reset LHS Overload, return load to start position and
release joystick switch.
(b)
LHS Overload light (4) (yellow) is located on the driver's dash panel
and illuminates whenever main hydraulic relief valve is opened during
loading or unloading.  When light illuminates, driver will be warned
that LHS has reached an overload condition or that hydraulic system
is lifting very near maximum capacity.  Overload light will come on
any time main relief valve is cracked open; therefore, load or unload
operation may not come to a complete stop, but light will come on
momentarily.  This situation would indicate that system is lifting near
maximum capacity.  If the LHS is overloaded, the light illuminates
and the system is automatically blocked out.  Offload/onload flatrack
and attempt second operation.  If, during this second attempt, the LHS
shuts down, stop operation and redistribute weight or reduce payload
before attempting load or unload.