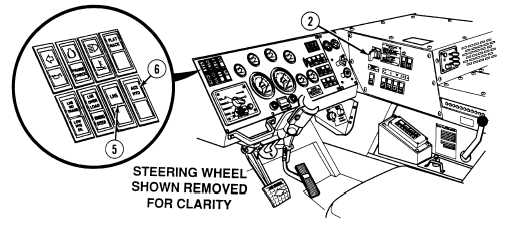 TM 9-2320-364-10
2-249
Overload protection system on PLS protects LHS and flatrack
from structural damage during loading or unloading.  This
system does not protect truck chassis from being overloaded
by means of a crane, forklift, or excessively loaded flatracks.
Truck chassis is designed to carry an evenly distributed 16.5
ton (14,982 kg) payload.  Operator is responsible to know
what payload weighs.
(c)
LHS (5):  Illuminates when rotary hydraulic selector switch (2) is in
positions  AUTO, MAN H.A., or MAN M.F.
(d)
Auxiliary Hydraulics (6):  Illuminates when hydraulic selector switch
(2) is in CRANE/SRW position.