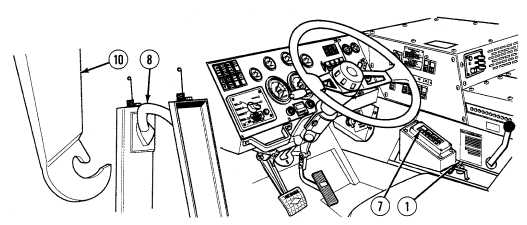 TM 9-2320-364-10
2-252     
2-29.  LOAD HANDLING SYSTEM (LHS) (CONT).
NOTE
To fully view lift-hook relation to hook-bar, it may be
necessary to observe position from outside the cab.
(6)
Continue to unload until lift-hook (10) has moved to below level of flatrack
hook-bar (8).
(7)
Release joystick (1).
(8)
Set the transmission range selector (7) to Reverse (R) and back truck up to
flatrack, aligning  truck and flatrack as straight as possible with lift-hook
(10) to middle of hook-bar (8) until lift-hook (10) contacts hook-bar.  Be
sure lift-hook tip is positioned below bottom of hook-bar (8).
Do not use Reverse (R) to back up truck while hook arm is
attached to flatrack or damage to LHS will occur.
(9)
Move the joystick (1) to LOAD to raise lift-hook (10) and engage
hook-bar (8).