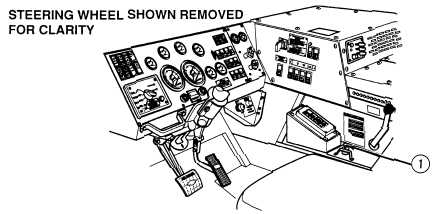 TM 9-2320-364-10
2-254     
2-29.  LOAD HANDLING SYSTEM (LHS) (CONT).
When loading or unloading flatracks on uneven ground (side
slope or downgrades up to 10 degrees), it may be necessary to
apply truck service brakes to prevent truck roll away or severe
injury or death could result.
·
If LHS overload lamp illuminates but loading operation
continues, operator is cautioned that LHS is nearing maximum
capacity.  In this situation operator should determine if payload
is evenly distributed on flatrack or if flatrack load exceeds 16.5
tons (14,972 kg).  If any of these conditions exist, operator must
redistribute or reduce the payload or damage to equipment may
occur.
·
Load must be evenly distributed on the pallet.  Uneven load
distribution may cause LHS Overload indicator to give false
signals and cause LHS to operate incorrectly.  Damage to
equipment may result.
·
If LHS overload lamp illuminates and, normal operation has
stopped.  Return load to original position and redistribute or
reduce payload weight or equipment damage may occur.
·
Ensure that parking brake is not applied before starting load
sequence or damage to equipment may occur.
(12)
Move joystick (1) to LOAD, allowing truck to be pulled under flatrack.