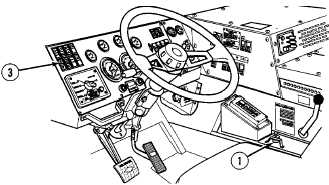 TM 9-2320-364-10
2-259
(4)
Move joystick (1) to UNLOAD.  Flatrack will start to move rearwards.
LHS NO TRANS lamp (3) will illuminate.  Maintain engine speed at idle
until front of flatrack raises approximately one ft. (30.5 cm).
NOTE
Loading and unloading times are controlled by engine
speed. Engine speed can be increased to approximately
1500 rpm to reduce loading and unloading times.
(5)
Continue to unload until rear suspension starts to lift and back edge of
flatrack touches ground.