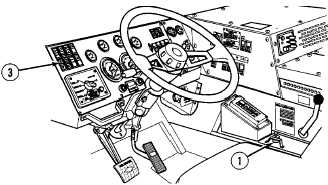 TM 9-2320-364-10
2-262     
2-29.  LOAD HANDLING SYSTEM (LHS) (CONT).
Never drive with NO TRANS light illuminated.  An
illuminated light means load locks are not engaged and LHS
is not fully stowed.
NOTE
Hook arm does not need to be fully stowed if more
transfer operations are going to be made.
(14)
Move joystick (1) to LOAD until LHS is in transit position.  LHS NO
TRANS lamp (3) will extinguish indicating LHS is in transport position.