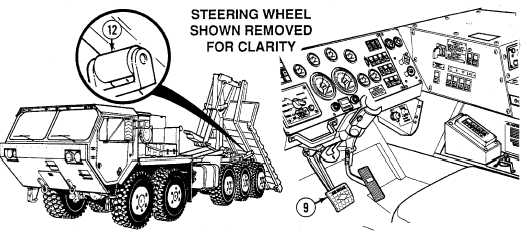 TM 9-2320-364-10
2-270     
2-29.  LOAD HANDLING SYSTEM (LHS) (CONT).
Ensure that flatrack runners contact LHS rear rollers correctly.
Failure to contact flatrack runners correctly could result in
serious injury or death to personnel and damage to equipment.
Reduce engine speed to idle before flatrack main rails contact
rear rollers.  Damage to flatrack may result.
NOTE
·
As load is lifted, truck will be pulled under the flatrack.  Some
steering adjustment may have to be made to ensure that flatrack
runners will contact rear rollers.
·
If flatrack is being loaded in soft soil conditions, perform Steps
(15) a through c, then continue with Step (16).
(15)
Before flatrack contacts rear rollers (12), reduce engine speed and apply
service brake pedal (9).