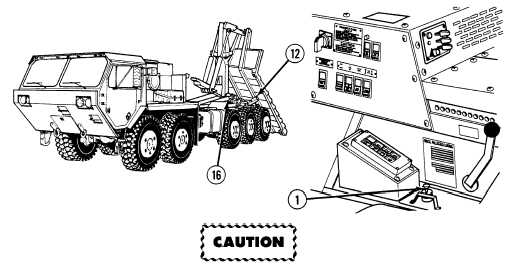 TM 9-2320-364-10
2-272     
2-29.  LOAD HANDLING SYSTEM (LHS) (CONT).
To avoid equipment damage, visually check that main frame
cylinders do not complete full retraction while operating at
engine speeds above idle.
NOTE
Engine speed will require increasing and decreasing in the
following steps.
(16)
After flatrack contacts rear rollers (12), increase engine speed to
approximately 1500 rpm until main frame cylinders (16) have nearly
completed full retraction.
Failure to reduce engine speed to idle could result in severe
damage to LHS components.
(17)
Reduce engine speed to idle and continue loading until main frame
cylinders are fully retracted.
NOTE
Overload warning light will come on when main frame
cylinders are fully retracted and joystick is activated.
(18)
Release the joystick (1).