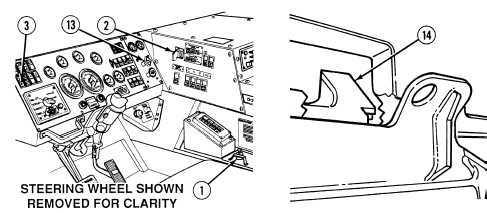 TM 9-2320-364-10
2-273
Engine speed must be at idle before using hydraulic selector
switch, or damage to equipment may result.
(19)
Turn the hydraulic selector switch (2) to MAN H.A.
Failure to reduce engine speed to idle could result in severe
damage to LHS components.
(20)
Move the joystick (1) to LOAD position and increase engine speed until
flatrack is nearly loaded, then reduce speed to idle.
(21)
Continue to load until LHS and flatrack is in transit position.  LHS NO
TRANS light (3) will extinguish.
(22)
Release joystick (1).
(23)
Apply parking brakes (13).
(24)
Inspect that load locks (14) have engaged and flatrack is fully down on
truck.