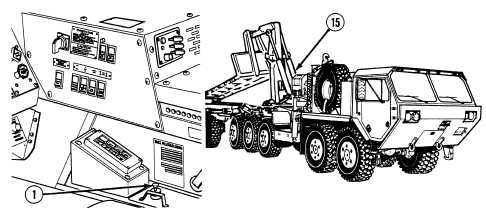 TM 9-2320-364-10
2-277
·
Reduce speed to idle in last 12 in. (30 cm) of travel to prevent
damage to cylinder.
·
To avoid equipment damage, insure that hook arm cylinders do
not complete full extension while operating at engine speeds
above idle.
·
Ensure rail transport locking pins are disengaged before
unloading flatrack.  Rail transport locking pins are used for rail
transport only.  Failure to comply may result in damage to
equipment.
(4)
Move the joystick (1) to UNLOAD until hook arm cylinders (15) have fully
extended.  Maintain engine speed at idle for approximately the first 18 in.
(46 cm) and last 6 in. (15 cm) of movement.
NOTE
When hook arm cylinders are fully extended and joystick
activated, overload warning light will illuminate.
(5)
Release the joystick (1).